From Firefox to Google Chrome, you have many choices when it comes to the best web browsers. It is important to find a web browser that you love and can use daily for surfing the internet, checking email, and everything else you need to do online. Some of the browsers are certainly better than others and you need to know which ones are best for you to choose.
There are many opinions out there and we all settle in to a browser we like. Some love to use Firefox, while others are still stuck using Internet Explorer. The good news is you can really use any browser you want regardless of whether you are working with a MAC or a Windows based operating system. Most browsers are now compatible with both.
The Best Web Browsers For you to Consider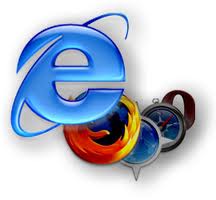 1. Firefox
Firefox is probably the most popular browser and is certainly one of the best web browsers you are going to find. It is 100% free and it runs faster than most other browsers. The load speeds for most websites are the fastest within Firefox, which is very important for website users of all types. Firefox takes out the possibility of frustration because of the site taking too long to load and leaves you with a clean, easy to use, and free browser for all your needs.
2. Internet Explorer
Another one of the best web browsers is Internet Explorer. This is one of the oldest choices out there with over 15 years of experiences with web browsing. They have changed the browser quite a bit over the years and now we are up to Internet Explorer 9, which has many advanced features you can use for browsing the internet, loading websites, and more. IE 9 is in its beta version and is very new, but many users are raving about the upgraded browser.
3. Safari
Even though most MAC users get access to Safari and it has been around for quite some time, it is not a very popular browser compared to the others. They did release a new upgraded Safari 5 recently that is packed with many new features. This new version may help Safari become one of the best web browsers again like they used to be.
4. Google Chrome
It was no surprise when Google decided they needed a browser. They are like the friend that is always late to the party and wearing the wrong outfit. They just won't stick to the search game and leave everything else alone. Google Chrome is one of the best web browsers, but it is not as good as Firefox or Internet Explorer. It can only be used with Windows 7, Windows XP, and Vista, which rules out the MAC users, who probably would not choose anything from Google anyway.
5. Opera
Finally, there is the Opera browser, which started in 1994 as a research project. It works with many different operating systems and you can use it if you have a PC, MAC, or even a Linux computer. It is also able to be used on tablets, PDAs, and smartphones. This is a very advanced browser for those with a much higher knowledge of the internet.
Choosing the Best Web Browsers for You
There are many browsers to choose from, but the best one is by far Firefox. It is the most advances, the most secure, and it is free. You don't have to upgrade nearly as often as you do with the others to get the new features and they offer all the add-ons and plugins you could need. If you are looking for one of the best web browsers for your computer we recommend Firefox.
Tweet
Tags: best web browsers, browsers, the best web browser, the best web browsers, top web browsers, web browsers