Information
Price
$3.45
Domain
Free
Disk Space
Unlimited
Top Pick 2011
$4.95 Month
Price $3.45
Disk Space Unlimited
Domain Free
Hidden Fees None!
Domain Lifetime Free
Domains Unlimited
Emails Unlimited
Space Unlimited
Bandwidth Unlimited
MySQL Unlimited
Technology MySQL, PHP
Technology Ruby, SSL
Technology Perl, FTP
Technology CGI
Editor's Rating
JustHost Review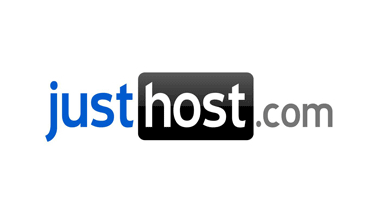 Just like many other web hosting companies competing in this industry JustHost does a great job of focusing on three things, great support,customer service, and cheap pricing.
Affordable pricing, ultra secure servers, technical support 24/7, and some of the most professional web hosting on the planet — that's Justhost.  All the features you're looking for in one low price.
JustHost has just become the most recent website host to join our best website hosting list.  JustHost might be the host that is expanding the quickest on the Internet right now — can you say cheap web hosting?
Quality Cheap Web Hosting
You can get hosting for just $3.45 each month! However, here is our bottom line first impression of this company — in this case you tend to get what you pay for.  Since this hosting company is so cheap their service tends to suffer, as we have found time and time again in our survey and research.
That's not to say that JustHost isn't improving their systems, it's just that we're hearing negative feedback and we like to report the good along with the bad.
Prices as of Today:
$3.45 each month for 3 years with our Coupon

$4.95 each month for 2 years with our Coupon
$5.95 each month for 1 year
An Expert Analysis of JustHost
We have not come across a new significant web hosting service in some time. Today, though, we are pleased to provide an analysis of a new and affordable web host known as JustHost.
Offering a Full Refund Policy
As we examine web hosting services, we search for one feature that makes that particular host different from their competition. One feature that jumped out at us is that they offers a full refund policy that lasts forever. The majority of hosts only provide a 30-day guarantee, so JustHost's policy is simply incredible.
It's clear that JustHost believes in their service and that they have heard some of the negative feedback we've been hearing about too.  They are definitely putting their money where their mouth is, and we can respect that.
You Get a Free Domain Name
For just $3.45 each month, you can get all the disk space and bandwidth you need, in addition to a domain name at no extra charge.  We believe that many start-ups and small businesses are looking for that FREE domain because they're only going to have one domain, most likely.  Plus, most small businesses and start-ups are brought up on a shoe string budget, so saving $10 bucks on a domain can certainly help.
In addition, JustHost provides unlimited emails, bandwidth, and domain hosting (should you want to add on a domain or two).  Sometimes adding one or two domains is a smart move for a small business because the owner can brand their name with a domain (i.e.  www.RichardWalters.com or something).
That's nice because when you're building a business a lot of people are going to "Google" your name.  They will "Google" your name, your company name, and more. When they find your name as the domain, along with helpful information on your website, they won't feel the need to move onto one of your competitors.  That's how fast business decisions are made these days.
JustHost is a good company, and we are more than happy to provide an analysis of this up and coming web hosting service.  We're looking for them to keep improving, proving that cheap hosting can also be reliable with great customer service.
Reading what actually customers are saying can be a bit confusing, but it is an important part of the decision making process.  Below you are going to find both a positive and a negative JustHost Hosting review from a few customers and you need to make sure you read the entire review.  Some of the negative reviews out there about any company are isolated experiences.
Customer Reviews of JustHost Hosting
"After the initial intro period is up…watch out!
Their customer service was really good, but it wasn't like I was pushing the limits of the servers over there, and the beginning price was really good!  The first year of the contract came out to only around $60…which is sweet.  I got all the space and traffic I wanted for one low price, and they do offer a free domain which you don't have to renew…this it's free for life.  But, you have to be very careful with this hosting company because the fact of the matter is that they will charge you about double your first year's contract…and it will be completely automatic.  There will be no warning and no explanation whatsoever.  They charge your card even though you don't really see it coming and your card can't pay you'll be dumped with like two weeks.  So, great service and great hosting but they are kinda of sneaky in my opinion.  The whole no added fees thing is BS…"
"Crooked.
I would sincerely avoid this company, their hosting and service were pretty solid, but they are shady.  I missed unchecking some box during the checkout period and got this added thing that I didn't want.  After trying to reason with these guys and repeated emails they did not resolve the issue or refund my money.  I have to do dispute on all three credit card bureaus…pain the ass."
"I love this company!
When we selected JustHost as our web host we did a lot of research did a lot of research, and we finally decided on them….we couldn't be happier.  What you get for the pricing is just amazing, all the features and apps, their cpanel layout is the bomb.  There are scripts on there that we don't even use yet, but probably will someday, it's nice to know that they are there if we need them…and there is no additional fees.  It's hard to tell who's telling the truth to you when you're trying to figure out what web host to go with, I hear ya, but we just love these guys and we have recommended them to serveral of our vendors who needed help with changing their hosting plans.  Once we had a technical issue and (I know they all say this)…but they actually delivered and solved the problem.  It's ultra scary when you have a technical problem that you can't fix and your site is down…when they help you it's like the cavalry have arrived for sure."
"Free Trial offer??
Free Trial?  WTF!  There was no free trial they simply took my sites and put them on the servers without even telling me.  I chose another web host in the end but I'm still getting bills from Justhost…this sucks.  They keep sending my bills and I keep telling them I didn't want to use your service.  This is turning into an all out war!  I have send multiple email complaints, multiple and it gets me absolutely no where.  In fact, my credit card was just charged for two years of hosting with Justhost, I mean, come on guys.  This is ridiculous."
"Good up until recently…
We've been with Justhost for around two years I believe it is and we've been relatively happy with their service and product overall.  Then we got into a bit of trouble and all hell broke loose.  One of the higher-ups in the company, you know the type, wanted some extra spam protection, so we signed up for this new filter that was around twenty dollars for the year, really cheap.  It looked good.  On paper.  But since then our entire company is not getting their emails!  Well, that caused quite a ruckus believe you me.  But the thing is that the folks at JustHost just haven't been available…well, they are by email, but not by phone.  And I would consider this to be a pretty major issue, wouldn't you?  The managers aren't around, the tech support isn't around, except via emai.  We honestly ended up using one of our people's little brothers to solve the problem, we had to remove the spam filter and it turned out to be pretty easy for this kid, but I would never have know what to do.  If he hadn't been around we would have been up the creek without a paddle.  Now, I know no company is perfect, but I'm starting to think that we need to start looking elsewhere for hosting, even after two years of good service, it's just not worth it to have our company on the brink of shutting down because of our hosting and email!"
"Very professional company…
I really find this company to be very good, we've never had any problems whatsoever, I can't speak for anyone else's experience, only ours and it's been very good. No major issues at all.  The customer service is fine, the billing is good and they don't try to pull a fast one on you, we've had great uptime and no issues with our site going down.  I have seen some bad JustHosting Hosting reviews, but I don't truly believe them, probably made up by the haters from other companies.  We have found them to be very professional in every way."
As you can see the JustHost reviews are pretty split.  Some customers have had a great experience with the company and others have posts a negative JustHost review.  It is ultimately your decision and if you are concerned due to these Just Host reviews from customer, then you should compare the company to other companies in the top ten hosts on our site.