$4.00
Month
Disk Space 70 GB
Bandwidth 700 GB
Supported Domains 1
Databases 10
Email Accounts 10
Domain Name Free
Get Started!
Editor's Rating
Micfo Review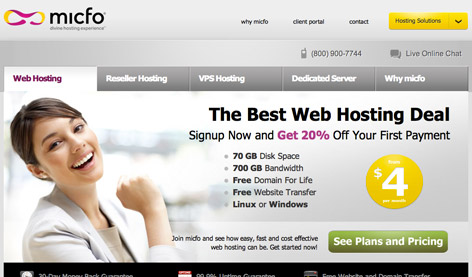 Micfo hosting has been in business since 2001 and the big thing they offer is a guaranteed 25-minute support response time to your e-mails to their support department. This is a pretty stout guarantee and even though the hope is that you will not have to use their support it is a nice benefit to know they will get back to you in less than a half hour.
Micfo hosting offers quite a few features with any of the three packages they sell. The goal is to provide every hosting customer with the experience and the tools necessary to get a website or blog up fast and easy. They are considered a value hosting company with a very low price for packages packed with features.
Currently they offer three packages starting at $4 a month and going up to $6 a month. The cheapest package does not give you unlimited hosting, but the other two do. If you want to find out more about this top value hosting company you can click below and discover every feature they offer with all three hosting packages.
Visit Micfo
Don't forget to compare the features of all the packages and get the one that fits your needs best.
The Micfo Review
Our Editor's Micfo Review
Micfo hosting will give you the basics and is recommended for the beginner to the hosting world. If you are a business or you already have many domain names, then it may not be the best choice out there, for your hosting. However, the beginner looking to get started will find the interface and control panel very easy to use.
The cheapest package called "boundless" is not unlimited and gives you 70 GB of diskspace, 700 GB of bandwidth, supports one domain name, and gives you 10 email accounts. This really is not much, but for one more dollar a month you can upgrade to the "limitless" package. This will give you unlimited disk space and bandwidth along with the ability to host 10 domains and 50 email accounts.
The best package offered by Micfo hosting is the "infinity" package. This one is only $6 a month and gives you unlimited disk space, bandwidth, domain hosting, and email accounts. If you know you will be building many websites and blogs you will want to splurge and spend the extra two dollars a month for unlimited hosting.
Micfo Review – Free Domain and Website Transfer
One of the major advantages of using Micfo is the ability to transfer your website and your domain without any issue. You don't have to worry about paying expensive fees to have your domain and website moved. It does not matter if you have one or many domains and websites they will move them for you without charging a penny.
When you couple this with the 25-minute response guarantee, you have a support team willing to give you exactly what you need. You never have to worry about waiting hours or even days for a reply to your support request and this includes when you are going through the transfer process. They will be there to help you every step of the way.
Support – The Micfo Review
Support is always a concern when choosing a hosting company. Micfo hosting provides you with 24/7 support through email, live online chat, and on the phone. They never sleep and always have someone there to help you when you need it. If you are having some type of issue you can contact support and get it resolved very quickly.
We only recommend hosting companies that provide professional and fast support. Micfo hosting is a very strong hosting company with the necessary support to gain our recommendation. If you are looking for a value hosting company with low prices and top-notch support, then choosing Micfo hosting is a good way to go.
Backing it Up with the Micfo Review
Every single night Micfo hosting will do an off-site backup of your emails, databases, and website. This means you don't have to worry if something goes wrong. It only takes one click to completely restore your control panel and get everything back to where it belongs. Protection like this is necessary whenever you are working online.
Between the backup services and the 99.9% up time guarantee, you cannot go wrong with Micfo hosting. They even put the guarantee right in their Service Level Agreement making it iron clad. If you don't receive 99.9% uptime, you will get your money back with no questions asked.
Customer Reviews (Micfo Review)

"I saw some bad reviews about this host but I liked their options…"
"I decided to ask them about their previous issued noted here. I went the websupport chat route. I was quickly routed to a customer representative (bryan) that informed me that as of December 08, they were under new management and had just completed migration to new servers with 20,000 mbits of network connectivity. I was convinced to sign up and so far have been impressed with their quick customer service. I'm hoping that their hosting will be as equally impressive as their customer service."

"I have been a customer of Micfo now for over 1 year…"
"and have been very pleased with their level of professionalism and transparency. I had an incident which I accidentally removed a folder of my file through my FTP program. After having had contacted their support, that folder was restored into my account with an hour from the time I initiated a support ticket."
As they going further, their services are constantly improving. Hats off.

"I have been hosting my personal website with Micfo since 2005…"
"Micfo has been a solid experience and I would certainly recommend them to anyone looking for a top hosting company which actually Cares about their customers!"

"Cost effective web hosting with great customer support…"
"is what I have been getting from micfo for the past 2 years. I have used many hosting companies in the past and no one come close to micfo in terms of customer service – Thank you!"
Visit Micfo
Check back often for updates to this Micfo review.
Micfo Review
Cashcow
2011-08-18 12:28:34