$2.49 Month
Disk Space Unlimited
Bandwidth Unlimited
99.9% Uptime
security Unknown
24/7 Support
45 Day Guarantee
Editor's Rating
Pacifichost Review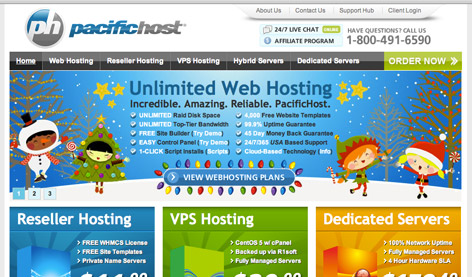 Pacifichost is best known for all the different choices they have. From shared hosting for one of the cheapest prices, you will find to dedicated server hosting at a fair price. This means if you start with a cheap package and need to upgrade you don't have to deal with the headache of switching to a new hosting company.
Unlike many other cheap hosting companies Pacifichost can provide you with more than just shared hosting. They are set up much like HostGator and they support many of the same scripts including Joomla, WordPress, and many other choices for blogging or easy website building.
(We do recommend HostGator over Pacifichost, but they are blog great hosts)
Currently Pacifichost is offering unlimited hosting for as low as $2.49 per month and many other packages for your hosting needs. Whether you need simple shared hosting or you are looking for a dedicated server, Pacifichost can help you get exactly what you need for a very affordable price.
Don't forget to look into the dedicated server options including hybrid servers.
What You can Expect (Our Pacifichost Review)
The Editor's Choice Pacifichost Review
Pacifichost hosting has been at it since 1999 and they provide hosting for thousands of clients. Whether you are an individual, small business, or even a large corporation they have a hosting package for you. With all the necessary features and support, you will have the peace of mind you need when choosing the right hosting company for your needs.
The time Pacifichost hosting has been in business has allowed them to discover all the best ways to provide their clients with the most reliable and the fastest hosting on the market. They guarantee 99.99% uptime and they even provide you with the hosting for your videos.
Top Quality Support – The Most Important Part of the Pacifichost Review
With support available to their clients 24 hours a day every single day of the years, Pacifichost hosting is one of the leaders. They have won a number of hosting awards with many of them for their support. They are also BBB approved, Verisign and Truste verified, and recommended by many reviewers.
Support is a high priority when choosing a host and the best part is the Pacifichost review research we did before writing this review led us to believe they have great support and reliable hosting. Since their support is super-fast and highly professional, you won't have to wait much or worry about some joker picking up the phone. Instead, you get reliable hosting and the support necessary to make any package worth the price.
Pacifichost Hosting Features (Pacifichost Review of the Features)
With every single hosting plan from Pacifichost hosting you get over 4,000 templates to use, Attracta search engine tools, free domain transfer, access to over 200 scripts for free, free search engine blacklist protection, and much more. These features come with any package you choose even if you just start out with the $2.49 shared hosting package.
Clients can also take advantage of unlimited disk space and bandwidth with the shared hosting packages along with many other necessary features. Hosting unlimited domains is also possible and if you are looking for more than just shared hosting you can benefit from all the features of the VPS and dedicated server hosting offered by Pacifichost hosting.
Customer Reviews (Pacifichost Review)

"I am pleased dealing with Pacifichost web host…"
"It is really professional host, and they have the quickest support ever.
I particularly like cPanel which I never had before and the ability to do things like upload zipped files and unzip them in file manager.
Their servers have only been down once while I have been with them and during that time they kept me fully informed/updated as to the progress being made in getting them back online.
Furthermore, their discounts saved me a good sum of money.
Very competitive pricing. Love PacificHost!!!"

"I'd like to tell you about my experience using PacificHost web hosting services…"
"Frankly speaking, I am fully-satisfied.. thumbs up to their support. Everytime I have had a question or needed support I have received an answer to my emails in less than one hour. They are always helpful and friendly no matter how simple or complex my questions are.
The hosting solutions provided are excellent. Great value for money..
I am also happy with the control panel. Servers are really fast – speed connectivity is superb."

"I've used Pacifichost for quite a long period of time…"
Most of the traffic stems from a webcam which uploads several pics per minute. Reliability is 100% I honestly cannot remember the last downtime our site has had that wasnt because of something I did.
The server uptime and overall speed performance are outstanding and consistent.
Their technical support is Helpful – support tickets tend to get a response within minutes, which usually resolves the problem. I'd recommend them quite highly.

"I was looking for a good hosting website…"
"and was previously with many web hosting providers, Pacifichost is one of the best hosts I've ever dealt with.
After a while I decide to cut down the cost for the server, and i wanted unlimited bandwidth, diskspace (back when I signed up this wasn't unlimited, but still big enough for me to call it unlimited).
Their support was also very helpful in the few issues I had. My web site has only once had problems, about 4 hours, but when I contacted them they said they were already working on it. Indeed, it was fixed within an hour.
Billing is automatic, and always correct. Pricing is reasonable.
I would recommend these guys!"
Check back often for great discounts and new Pacifichost hosting coupon codes.
pacifichost Review
Cashcow
2011-08-18 12:28:34