$11.95 Month
Free Domain Included
10,000+ Templates
Easy Setup
Editor's Rating
Web.com Review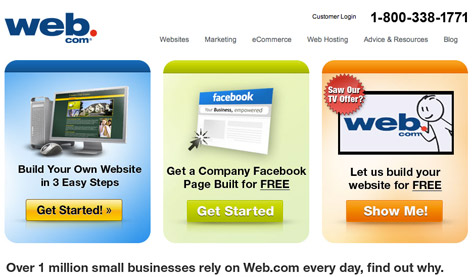 Web.com is much different than most hosting companies. They provide you with more than just hosting for your website. In fact, they are better known for their easy website design than they are for the hosting they provide. Web.com will also provide you with many marketing tools including a Facebook page they build for you.
The core goal of Web.com is to enable small businesses to succeed online and they do this through offering both Linux and Windows hosting along with all the tools you need to become successful online. You can build your own website with a three step process or you can have Web.com build it for you.
Currently Web.com is offering a special on their hosting. Both Windows and Linux hosting from the Web.com review are discounted to $11.95 per month. This is great price for what they provide, but this special discount will not last forever. If you want to get started with Web.com or discover more about their hosting and services, simply click below.
Don't forget to look into all their great marketing services
The Web.com Review and Opinions
Top Editor's Web.com Review for Small Businesses
Web.com is specifically tailored for small businesses and they can work with nearly any budget out there. From website design and hosting, to top marketing methods they can provide you with everything you need to gain the web presence your business needs. Web.com is more than just a hosting company or even just a web design company.
If you are looking for the ultimate solution, you can take advantage of one of their many marketing programs. They offer search engine optimization, gorilla marketing, local marketing, Facebook page marketing, email marketing, and guaranteed click marketing. With a Web.com marketing plan, you can not only get your website up and running, but also get it in front of new customers.
Web.com Review of Linux and Windows Hosting
Whether you prefer to be on a Linux server or a Windows server, you can get either for the same price from Web.com hosting. They will provide you with unlimited data storage, unlimited bandwidth, unlimited domain hosting, and unlimited email accounts. Both ma href="http://www.webhostingmasters.com/best-ecommerce-hosting/">types of hostingwill provide you with many great features and it is just a matter of choose the one that is right for your project.
With access to MySQL databases and many other tools, you will be able to get your website up and running in no time. Using these types of servers for your hosting will provide you with the most reliable hosting you can find. Plus, you will have the ability to use the free Google Adwords credit along with the Facebook credit they provide for you.
What Makes the Web.com Review so Different?
The one thing that makes Web.com hosting and services much different than the other choices is the services they provide above hosting. They are not just a hosting company that throws in a number of free things to get you to sign up. They offer services for website design and marketing that can really help you put your business on the map.
Having your marketing, design, and hosting all with one company can help save you time and give them a full look at what you are trying to accomplish. Web.com aims to help small businesses compete with larger corporate businesses and they are very good at what they do. If you are looking for small business hosting, web design, and marketing services, then choosing Web.com hosting is a smart way to go.
Web.com Review – The Guarantee
If you want one more reason to choose Web.com hosting it is the guarantee they provide. If you are not satisfied with anything they do, they will refund your money without even asking a single question. This means you don't have to worry about anything if you are unhappy. They will simply give you your money back and part ways with you.
Customer Reviews (Web.com Review)

"Web.com is a very good hosting company and the customer support is great…"
"It really helps when you can talk to a real person about any problems you may receive."

"Good up time, helpful, polite staff…"
"BUT I have found that they have the most unscrouplous business practices of any company I have ever dealt with. They will outright LIE to you. I have printed ads w/toll free number that comes w/site. Don't get stuck!!!!"

"I have had my ups and downs with Web.com…"
"but I can say that overall I have been pretty pleased with my experience. I always receive a follow up message after submitting a trouble ticket, I am greeted with a knowledgeable support rep after my tickets are escalated, and I have yet to encounter any billing issues. My site has never been down in the three years that I've hosted with Web.com, and I've had over a 99% uptime achieved."

"I just started with them…"
"So far so good support has been great called to cancel after 2 days found a host cheaper. They matched there price to keep me spent 45 mins on phone explaining to me how to optimize and make site work. very pleased."
Check back often for new discount codes added to this Web.com review.
Web.com Review
Cashcow
2011-08-18 12:28:34