Best Colocation Hosting – 2011 – Top Web Hosting Picks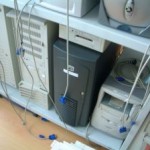 Colocation hosting is a term most people may not be familiar with.  What the term refers to is the process whereby a business will relocate its server to the location of a colocation provider. The company will select the hardware configuration of the server it wants and also the software to go with it.
The hosting company's role is to maintain Internet connectivity, handle environmental issues such as power disruptions, and air conditioning. The hosting client handles the maintenance of his server.  This set-up will serve a company that wants the same features and functionality a big IT business has, but it does not want the additional expense of such an operation. Since it cannot afford to maintain its own IT department, this set up provides a good solution.
In that location, the business will get the benefit of the provider's bandwidth and will utilize it as a part of its hosting.   The charge for this type of hosting will be greater than for the standard web hosting, but given the increased bandwidth made available to the server, it actually ends up costing less than a hosting plan with that same amount of bandwidth included in the plan.
It's a great little piece of technology and with businesses looking to cut costs these days, this is definitely something that a lot of business' are looking into, getting more bang for your buck is always a good thing, today more than ever.
Benefits of Colocation Hosting
Resources can be allocated with great flexibility
High performance is achieved through this system
Scalability is readily achieved
High available bandwidth allows the system to cope with surges in traffic flow
The colocation provider ensures that the servers are stored in a very secure environment.
The greatest benefit of collation hosting is the cheaper bandwidth cost it affords. If considering the bandwidth cost for a DSL line, you can provide higher bandwidth speeds, as well as network connections with greater redundancy, to a single server situated in a colocation facility, and the cost will be the same or even less. You will be paying the same or less for a greater quality service.
With some colocation providers,  the extra service of maintaining and managing the server for the business can be provided for the business if that business cannot provide the same or itself because it does not have qualified IT personnel, or if the business is in a distant location. This service is provided at an additional charged.
The colocation provider ensures high server availability, even during periods of very severe weather conditions. This is achieved with the use of backup generators and power and this service  is provided to clients who opt in for it, at an additional charge.
In the colocation facility, the server will remain in operation even though the company itself may relocate to another area. If it were not for the colocation provider, the company would need to pay for two lines at some point during the move in order to relocate the domains, or it will experience downtime while the servers are being relocated.
Concerns with Colocation Hosting
One  concern is that the rate charged for hosting may vary with fluctuating costs of the elements that determine overall hosting charges, for example the quantity of data transferred in the month. There can be a significant jump in the monthly cost if a surge of traffic occurred during the month.
Colocation may get expensive especially if the business owner does his own maintenance and needs to purchase hardware to make upgrades himself.
When a hosting client moves away from the colocation provider area, he will have to relocate his server or be prepared to pay additional charges for maintenance of his server.
Locating a colocation provider near to either your work or home location may be difficult and could present a problem if you need to provide maintenance or perform upgrades to the server.
The Best Colocation Hosting Picks for 2011 (Liquid Web #1)
The colocation provider will receive the machine and install it in its own rack or instead, the company can rent a server machine from the colocation provider. The bandwidth, IP address, and the power are provided by the hosting company. After the set-up is completed, the company will be able to access his site through the hosting provider.
Our top pick for the best colocation hosting is LiquidWeb. The company was started in 1997 and hosts more than 20,000 customers in 120 countries worldwide. The company owns three different data centers located in Lansing, Mi. (a feat held by very few web hosting companies) and manages 13,000 servers.  This allows the company to provide very high quality web hosting. The company takes great pride in not overselling its server space by placing thousands of different clients on each of its servers.
The company's data centers are built with redundancy in mind at each level, and this makes sure that a failure in the system at one level will not impact the server's operation. The company is very well regarded for having the least amount of problems while delivering the highest quality in web hosting. The company's network is built to be robust and reliable to provide client confidence and website stability.
You will not receive discounted prices at Liquid Web. Among hosting companies that provide dedicated servers, vps hosting and shared hosting, Liquid Web prices are among the highest seen in the hosting industry. Since the host provides a premium service, the price is a good reflection of what you are paying for.
Colocation Services of Liquid Web
Premium bandwidth
Highly rated  onsite technical support available 24/7/365
100% Network uptime guarantee
Includes 1 IP address
UPS and redundant battery cabinets
Choice of 2 possible colocation plans – options of the plans allow up to 2000 GB transfer , 5 servers maximum, 10U rack space and 8 IP addresses. This maximum configuration will cost $300 per month.
Colocation sites are monitored remotely by a security company
Access to site controlled by electronic access card system
Multiple N+1 Generators
Basic Features Offered by Liquid Web
Addons to cpanel – Fantastico and Autoinstaller which together provide over 100 scripts including WordPress, Joomla, Drupal, CubeCart, osCommerce and many others that can be accessed through the cpanel interface
24/7 live chat sessions
Comprehensive video tutorials
Updated knowledge base
Highly rated onsite technical support that is available 24/7/365
Cheapest web hosting plan is offered with limited disk, bandwidth and for 2 domains the monthly charge is $14.95 per month
Media Server hosting
Database hosting for MsSQL and MySQL databases.
This level of hosting is not appropriate for those webmasters running simple blogs or personal websites – they will be adequately served with the traditional shared web hosting plan. This hosting is the solution for a company that is looking for a more robust server that cannot be had in the traditional hosting plan. It also benefits a small company that wants a big company web presence without having to deal with the technicalities of network connections.
Colocation hosting allows businesses to host their equipment and their servers, decrease their capital costs, and also improve their service level. This can be achieved while allowing the business owners the time to focus their energies on growing their business operations.