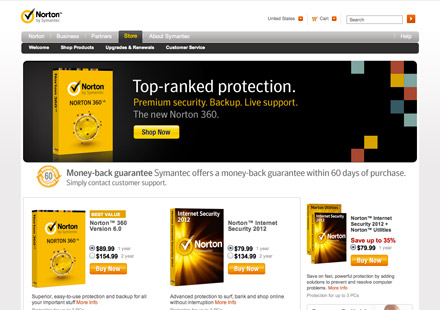 Price $98.98/year
1 yr protection For 3 PCs
Automatic Protection
Antivirus Included
Antispyware Included
Phishing Protection
Antispam Included
The Top Choice Norton Antivirus
Most everybody that owns a computer knows of Norton Antivirus. With top ratings nearly every single year, many businesses and individuals prefer Norton Antivirus over other choices. With a top reputation and the ability to provide the best security against viruses, you can't go wrong with this antivirus program.
The AV-test gave this program very high scores for both protection of Windows XP and usability. The one thing they did mention, however, if you want the best anti-phishing protection, you will need to upgrade to Norton Internet Security. The interface gives the user an easy way to access all the necessary tools and the advanced options allow for superior protection.
With the new Norton 360 version 5 all users will know they have a high performing product with many useful features. This version introduces top features necessary for improved internet security. The price tag is higher than other programs offered by Norton and other companies, but with antivirus protection, you get what you pay for. Get the best today by visiting the Norton Antivirus website.
Norton Antivirus Reviews and Features
With a massive package full of tools for better security, your computer protection soars to new levels. Hackers may think they are one set ahead, but with the protection Norton provides, you will be so far ahead they won't ever catch up. A virus attack could hinder your computer use for many days or even weeks, but with the right protection, you won't even know a virus tried to attack.
Many updates are included in the new Norton Antivirus package along with the new Power Eraser and efficacy benchmarks like never before. The one thing many noticed was that the system does not leave the smallest footprint. There will be a minimal impact and you should be aware of this before moving forward with your purchase.
You get the real-time threat map, originally seen in the 2011 suites and you get all the features introduced last fall in these older versions. These updates help protect you from the most recent viruses and will instantly check all the files and where they originated from. The Insight engine will also alert you to any programs eating up your resources and slowing your computer down.
With the bootable recover tool, you will be able to clean infected systems enough to install the Norton Antivirus program. This will also create a rescue tool to help when you are attacked. Installation is a breeze and happens very fast. Even with this huge program, your installation will only take a few minutes.
Why we Recommend Norton Antivirus
After many years of providing the best product, we recommend sticking with the top antivirus program. Norton Antivirus will provide you with real-time protection, allow you to perform all the necessary scans, and allow you to sleep better at night. The level of protection you get simply cannot be matched and if you want the best, then Norton Antivirus is the only way to go.