Since WordPress is the top platform (CMS) choice of small businesses, corporations and restaurants throughout the world, it's important to understand how to choose the best WordPress theme for your restaurant. Websites for restaurants have unique needs from displaying menus and events to connecting with customers. You need to be able to incorporate everything necessary into a package your customers will love.
Every restaurant needs a website regardless of whether they allow online ordering or just need a place for customers to find them. With so many people making their dining decision based on a search on Google, it's important to choose a restaurant theme with the right search engine optimization (SEO) elements, along with the right look.
There's so much that goes into your site, including the ability for people to find you on their mobile device. Imagine reaching those searching on their smartphone, tablet or any other device right when they're searching for a place to eat. If you don't have the right WordPress theme for your restaurant website, it won't show up correctly on mobile devices. This could be the difference between a group of friends choosing your restaurant and the one next door.
Five of the Best WordPress Themes to Use for Your Restaurant Website
1. Aroi
If you're looking for a theme designed specifically for restaurants using WordPress, Aroi is the right one for you. It comes with features specific to the restaurant industry, which makes it easy to display your menu, images of dishes, contact information, events and so much more. You can create a reservation form through this theme and choose from one of two different color schemes. It comes with shortcodes, widgets and many other options to help you customize your website.
2. Restaurant Pro

Those looking for a drag and drop design experience can use the Restaurant Pro WordPress theme to build their website. It provides an easy to use framework perfect for beginners to web design. Easily customize all the sections of your site, display the data you want visitors to see and drag and drop your widgets into any section of the theme. You can get started quickly with the Starter Edition without any charge and upgrade to Pro, if this is the right theme for you.
3. Cafe House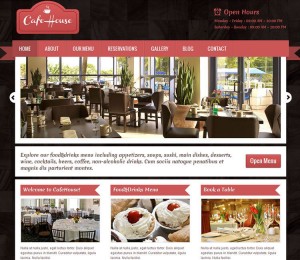 Another top WordPress restaurant theme is Cafe House. This is a unique theme perfect for many types of restaurants, but fits great for cafe style restaurants. It's built with Twitter Bootstrap and gives you all the right things for your needs. Use the reservation form, display your menu and enjoy the fact that this theme is fully responsive. The customization of this theme is very easy and you can make it your own.
4. Bon Apetit
Many restaurants use the Bon Apetit theme for their website and this one comes from Themefuse. It gives you the ability to create a menu easily, add recipes and even use feature slides. This theme is perfect for the restaurant looking for something a little simpler and it works great for pastry shops and bakeries, as well.
5. My Cuisine

A theme from Elegant Themes, My Cuisine is designed with the restaurant in mind. It provides many options including the ability to showcase your menu, add a price tag for specific items and choose from four different color schemes. It gives you a theme customization panel, the ability to use shortcodes and multiple page layouts.
The Custom Theme Option
If you can invest the money and you want a truly unique look, you can hire a designer to create a theme for you. When you allow someone to take your restaurant and create a theme that matches the entire theme of your restaurant, you get something you cannot get from any other WordPress theme.
There are plenty of things you need to consider when it comes to the theme for your restaurant website. Choosing one of the five listed above will certainly get you started and make it much easier if you're the one doing the design work. Just make sure, when the time is right, you customize your website and get a theme that matches your restaurant perfectly.
Tweet
Tags: restaurant themes, restaurant wordpress themes, wordpress themes, WordPress Themes for Restaurants